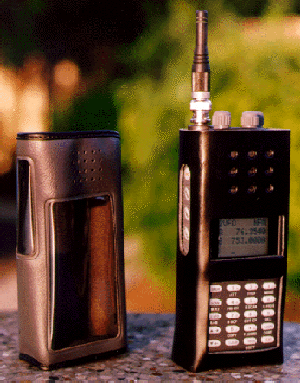 Photograph courtesy of M. Baranowski

AR-8000 Carry Cases
---
The case on the left is the soft (SC-8000) carry case from AOR. This has a large clear plastic window over the screen and keypad. Down the right hand side is a large Velcro strip for fastening the case.

The cost of the SC-8000 is £18.00 pounds including postage.

The Leather case on the right is considerably more robust and available from ourselves or Design EQ in the States. The AR8000 fits "snuggley" in the case. The belt clip supplied with the AR8000 can be used or this case can be secured onto a belt. This case now has a clear plastic screen over the screen and keypad together with the Function keys down the side (Not shown on this particular picture).

The LC-8000 case costs £15.00 including postage from ourselves.
---

E-Mail Javiation for further information
Javiation On-Line Order form
Return to AR8000 information page
Return to New Information Home Page
---
All Pages Copyright (c) Javiation 2000