AOR AR7030 - "Superior by Design"
High dynamic range short wave receiver 0 - 32 MHz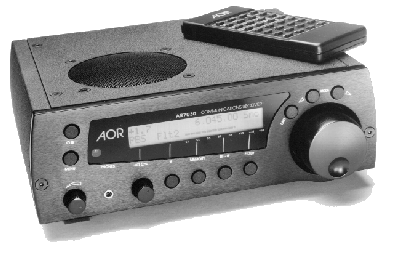 ---
For many years short wave receiver manufacturers throughout the world have pressed forward the frontiers of performance and design bringing a handful of notable advancements and setting new industry benchmarks for receiver specification. With the introduction of the AOR AR7030 short wave receiver, a new measure of performance, indeed a new benchmark was offered to the discerning and dedicated listener.
The AR7030 is the result of a combined project between AOR and internationally acclaimed UK designer John Thorpe. The AR7030 represents the very latest and best ever "JT" design concentrating on exceptional strong signal handling and bristling with enhanced features and facilities. The AR7030 is being manufactured by AOR MANUFACTURING LTD based at the new Belper locale in Derbyshire UK.
AOR supplied "advanced" technical specifications are now also available.
---
Technical excellence - top of the class.
No matter how many new features and facilities are offered, ultimately a receiver will be; judged on how well it receives ! It is for this reason that we can feel so confident of the receiver's success and notability.

In Europe, especially at night strong signal handling is of prime concern and this is where the AR7030 stands ahead of the field offenng an IP3 greater than +35dBm (preamp off - around +25dBm preamp on), dynamic range greater than 100dB in AM mode with a 7 kHz filter and greater than 105dB in SSB modes with a 2.2 kHz filter. This fantastic strong signal handling is aided by the innovative configuration of a lateral DMOS FET QUAD first mixer running at 15V, relay switching in the front end (not diodes) and the use of shielded inductors throughout the signal path.

All this and GREAT SENSITIVITY better than 0 5uV for 10dB S/N in AM mode and better than 0.3uV for 10dB S/N in SSB. Selectivity too is razor sharp offerring greater than 90dB @ 10kHz SSB and greater than 100dB @ 20kHz

No other receiver "in the class" nor indeed at considerably higher price can match the sheer performance excellence of the AR7030. Unless you perhaps consider the AR7030 PLUS !
---
High Tech
The receiver is built around a TCXO frequency standard which provides the reference for all circuitry ensuring the ultimate in stability and optimum alignment. Single loop DDS provides the clean local oscillator reference essential for low reciprocal mixing levels and seamless tuning in approximately 2.7Hz steps (no tuning "plops" - at regular intervals). The receiver is double conversion superheterodyne with intermediate frequencies of 45MHz and 455kHz.

The I.F filters are self-aligned by the receiver using advanced microprocessor control ensuring "spot on" alignment and symmetry of passband characterstics essential for serious ECSS listening. The main PCB will accept a number of different filters including Murata and Collins, all will be self-aligned ! The on-screen displayed filter bandwidth is not hard written into the microprocessor code but is actually "measured" by the receiver under microprocessor control permitting various displays such as 2.2kHz, 2.3kHz, 2.4kHz, 2.5kHz etc depending upon the particular filter fitted. In fact the remote facilities are so powerful that standard dealer service kit will contain a PC disk for alignment, testing and diagnosis.

Virtually every aspect of the AR7030 will be controllable with the standard REMOTE port, even the twin line outputs may be configured as hi/low etc. The tape recorder slave relay may be configured to operate from the built-in clock timer or from the squelch control. Mute input is also available in order to mute the AR7030 for use with transmitters.

All modes are fitted as standard: USB, LSB, CW, AM, Synchronous AM, NFM, DATA. The receive coverage is 0 - 32MHz the AR7030 has NOT been disabled below 150 or 30 kHz. The standard fitted I.F filters include: 2.2kHz, 4 5kHz, 7kH and 10kHz with two optional positions available for CW or other filters.

Enhanced features include pass band tuning +/- 5kHz, variable audio pitch tune on CW & data modes and a new "variable bandwidth synchronous detector" for AM listening to eliminate the effects of transmitter / receiver drift as well as reducing distortion with selective fading. The pass band tuning may be used in synchronous AM mode to select synchronous USB, LSB, DSB or anything in between.

A specially developed AGC release characterstic has been developed to ensure SSB quality never before heard. Noise spike compression has also been included to reduce the effects of noise pulses.

A built-in six level attenuator provides many levels of sensitivity +10dB, 0dB, -10dB, -20dB, -30dB nand -40dB. However when considering the excellent strong signal handling of the AR7030 this is going to be a control rarely required ! The rear case of the AR7030 has inputs for a wire aerial with ground connection, 50 OHM SO239 plus selection of a whip.

Audio output is of high quality and clear tone when using the built-in top mounted speaker. A 3.5mm external speaker socket is provided on the rear panel which mutes the intemal speaker, the amplifier provides more than 2 WATTS of audio; there are even treble and bass controls. A stereo 3.5mm front panel socket provides headphone output from another internal stereo amplifier and may drive mono or stereo headphones.
---
Infra-red and microprocessor control
A 48 character DOT MATRIX alphanumeric rear illuminated display enables a huge amount of detail to be displayed. Microprocessor facilities include on screen 70 segment S-meter, twin VFOs, frequency readout to 10Hz, 100 memories which hold frequency, mode, filter, passband shift or squelch status, memory scan facility, clock & timer, filter information, memory review, menus etc.

An assignable control enables you to place the functions YOU want at your fingertips these include a press button and a spin-wheel These controls may be assigned as follows

Button:
Filter select
Spin Wheel:
Passband shift
VFO Select
Squelch
Memory Recall
Tone (treble or Bass)
AGC Speed
Memory channel select
Scan Start/Stop
I.F.gain

It is also possible to save a few of your "favourite" receiver setups for later retrieval to save you having to continually change parameters when changing from broadcast to data to amateur band listening.

A full featured 32 button infra-red remote control is provided as standard and provides access to virtually all the facilities (except aerial switching) including: Tuning, volume, tone, numeric keypad, memory functions, pass band shift, filter selection.
---
Stylish strong cabinet
The AR7030 features a custom CNC machined solid aluminiun front panel with extruded aluminium shaped sides, metal top, bottom & rear panels. The front panel finish is brushed and anodised with the sides and other surfaces toned in a matching textured paint. Smooth curved lines, detailed front panel, custom domed top mounted speaker grille and ergonomically placed controls spell out the attention to detail of the robust, solid cabinet.
---
Options
The AR7030 cabinet is extremely compact so there is limited internal space for options. This internal space is considered to be in three sctions. Generally speaking each option (except for filters fitted directly to the main PCB of which two can be fitted without the need for the Daughter Board) takes one space, the battery however takes two spaces. With this in mind it is theoretically possible to fit the crystal daughter board, noth/noise blanker PCB and WFM option all at the same time....but then there is no room for the internal battery. If the battery option is fitted then only one other option may be fitted in addition. Operation will usually fall into two categories of "High Performance" or "Portability" so this should not cause too much of a problem.

The following AR7030 options can be fitted Free of Charge prior to despatch.

Option
Description
Availbility
Collins CW
500Hz Collins mechanical CW filter
Stock
CFJ455K8
1.0kHz Murata Data filter
Stock
CFJ455K5
2.4kHz Murata filter
Stock
XTAL2.4
2.4kHz high quality 8 pole crystal filter
(Daughter Board recommended for fitting)
Stock
Collins SSB
2.5kHz mechanical SSB filter
Stock
Collins 4A
4.0kHz mechanical narrow AM filter
Stock
CFK455J
4.0kHz Murata ceramic narrow AM filter (Fitted as standard to the AR7030+)
Stock
Collins 6A
6.0kHz mechanical AM filter
Stock
FL124
Daughter board for fitting crystal filters. Comprises a bracket and PCB designed to take up to 3 crystal filters. Patterned to accept HY-Q, Kenwood &amp JRC etc. Supplied with connectors and cables to fit two filters as standard (using the otional Collins positions of the AR7030 PCB), capacitors and fitting sheet. Strongley recommended if fitting crystal filters to the AR7030.
Stock
BP123
(BP7030)
Internally mounted sealed lead-acid battery, mounting kit &amp charging invertor PCB. Will accept charge from the standard power supply or from any external DC supply of 9-15V @ 2.0A. Achieves 70% fast charge in 2 hours and will provide 4+ hours of operation. Note: A "slight" performance fall off by a few dB when running from the internal 12V battery and coverage above 30MHz is not guaranteed.
Stock
TW7030
Optional Telescopic whip for the AR7030 when operating portable from a table top. Terminated in a PL259 plug (whip amplifier already fitted inside the standard AR7030 receiver).
Stock
SC7030
Soft Carry Case for portable use.
T.B.A.
NB7030
Noise Blanker comprising three features in one:
Audio Notch Filter: Used to remove annoying whilstles when listening in AM, SSB, Data &amp CW modes. A specially designed 4th order notch shape make the notch "easy to tune" (unlike some other notch filters on the market) while retaining great depth. Excellent integration provides enhanced features such as notch follow and auto search for tone.

Impluse noise blanker: Useful for reducing ignition noise from passing motor vehciles etc. Switcheable and adjustable theshold to ensure the highest performance is maintained. Unlike some other noise blamkers this option works well in AM mode, not just SSB.

Enhanced CPU: A replacement plug in CPU with additional plug-in EEPROM will provide 400 memory channels, each capable of retaining 14 charcter alphanumeric text comments. When tuning across frequencies already stored in memory, the text display will be shown on the LCD for easy station identification. Multiple times using data stored in memory allows multiple swich on/off similar to videao recorder, ideal for unattended recording to tape.

In Stock
UPNB7030
Noise Blanker option for AR7030+:
This package is as per the NB7030 but without the Enhanced CPU as this is already fitted to the AR7030+. There is a price differencial between to refelct this.
In Stock
FPU7030
Enhanced CPU as described above.
In Stock
WFM
Stereo WFM Band-II internal convertor with RDS display. Still under development and dependant upon demand.
??
---
Key Features:
Frequency coverage 0 - 32 MHz
Mode reception: USB, LSB, CW, AM, Synchronous AM, NFM, DATA
Advanced IP3 greater than +35dBm
Very high dynamic range
>100dB in AM mode with 7kHz filter
>105dB in SSB mode with 2.2kHz filter
>110dB in CW mode with 500Hz filter

Seamless tuning using single loop DDS, no tuning "plops" at regular intervals
TCXO frequency standard fitted
Variable bandwidth synchronous detector with selection of USB, LSB, DSB or anything in between
Automatically calibrated and aligned filters
Specially developed AGC release charactenstic
Passband tuning +/-5kHz
Audio pitch tune in CW & DATA modes
DOT MATRIX rear illuminated LCD with plenty of on-screen information
Assignable controls
Re-configurable receiver, switch between several favourite set-ups
100 memory channels
Clock and timer facility
Supplied with full function infra-red-hand control
---
Specifications
AOR have recently supplied "advanced" technical specifications that are now available together with the data below.
Model
AR7030
Frequency input range
0-32MHz
Modes
AM, Synchronous AM, USB, LSB, CW, DATA & NFM
Intercept point (IP3)
>+35dBm preamp off (>+25dBm preamp on)
Dynamic range
>100dB in AM mode with 7kHz filter
>105dB in SSB mode with 2.2kHz filter
>110dB in CW mode with 500Hz filter
Sensitivity
150kHz - 32MHz
<0.3uV for 10dB S/N in SSB mode
<0.5uV for 10dB S/N in AM mode
Selectivity
>90dB @ 10kHz SSB mode
>100dB @ 20kHz SSB mode
Standard fitted filters
4 standard and two optional
2.2kHz, 5.5kHz, 7kHz and 10kHz
Tuning
Approx 2.7Hz in SSB mode
Fully continuous tuning multi-rate speed-up tuning from weighted spin-wheel. Keypad entry from infra-red hand control
Audio output
2 WATTS into 8 OHMS using standard provided a.c. mains to 15V d.c. power supply
Power requirements
12 - 15V dc @ 300 - 500mA
30mA on standby
Aerial connection
50 OHM S0239 with whip position
Wire input terminal plus GND
Weight
Approx 2.2 kg
Dimensions
Approx 90mm(H) x 240mm(W) x 255mm(D)
Specification subject to change due to continuous development of the receiver E&OE Rev 1.0 AOR (UK) LTD 1995
"Designed & built" in the UK - AOR MANUFACTURING LTD, AOR Manufacturing Ltd & AOR (UK) Ltd are associated companies of AOR LTD, JAPAN.
---
PRICES
For the latest prices and availability please give us a call by phone or send us an e-mail.
---

E-Mail Javiation for further information
Javiation On-Line Order form
Return to Javiation Home/Index Page
---
Page layout Copyright (c) Javiation 2000