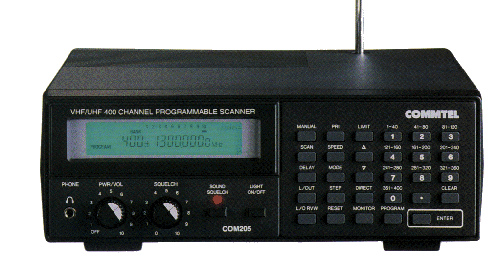 Commtel 205
Click on picture for larger image
---
As from the middle of April 1999 all stocks of the COM205 have been sold. Altai (who distribute Commtel) have no more and all our stocks have been sold.
We will keep page here for reference though.
The Commtel 205 will be recognised by many as the PRO-2006 from Radio Shack - it is the same radio after all.
Distributed in Europe by Altai and manufactured by GRE in Japan it has (as the PRO-2006) perhaps the most popular base/mobile scanning receiver in recent Years
Frequency coverage is continuous from 25-520MHz and 760-1300MHz, any mode of AM, NFM or WFM can be selected on any frequency and a choice of increment/channel steps can also be selected. Other than the internal 240v AC Power Supply the COM205 is **exactly** the same as the PRO-2006 so 30kHz increment steps are available between 824-849MHz and 869-894MHz.
400 memory channels store frequency and mode whilst the 10 search banks allow user defined lower and upper frequency limits to be stored together with mode and increment step. An additional 10 "monitor" channels are available to store frequencies that may be found during search.
Two speeds of scan/search are available, the faster of the two allowing around 26 channels per second to be scanned.
Internally the receiver requires a PP3 (9 volt) battery to maintain the memory contents when the receiver is not connected to a power source. The receiver is fitted with an internal AC transformer (240 volts AC) or can be run externally via 12 volts DC.
For those wishing to use the COM205 with a computer the Optoelectronics OS-456 can be fitted. Once installed there is a wide range of software compatible with the OS-456.
---
Availability & Price
There are no more :-(

All stocks of the COM205 have been sold - the only chance of obtaining one now is on the used market.
---
Main Features Specifications
Frequency Coverage: 25-520MHz and 760-1300MHz
Modes: AM, NFM and WFM
Increment steps: 5KHz, 12.5KHz and 50KHz
(30KHz steps available on US cellular)
Memory Channels 400 (10 banks of 40)
Monitor Channels: 10 (for storing frequencies found when searching)
Search Banks: 10
Sensitivity (from the manual)

AM (20dB S/N with 60% modulation): 25-1000MHz 2uV, 1000-1300MHz 5uV
NFM (20dB at 3KHz deviation): 25-1000MHz 0.5uV, 1000-1300MHz 3uV
WFM (30dB S/N at 22.5KHz deviation): 25-1000MHz 3uV, 1000-1300MHz 10uV
Selectivity (from the manual)

AM/NFM: +/- 9KHz = -6dB, +/- 15KHz = -50dB
WFM: +/- 150KHz = -6dB, +/- 300KHz = -50dB
Scanning Speed: Slow = 13 channels per second, Fast (Hyperscan) = 26 channels per seconds
Size:76mm (h) x 220mm (w) x 205mm (d)
Weight: 2.2 Kg
Supplied Accessories
---

E-Mail Javiation for further information
---
All Pages Copyright (c) Javiation 1999